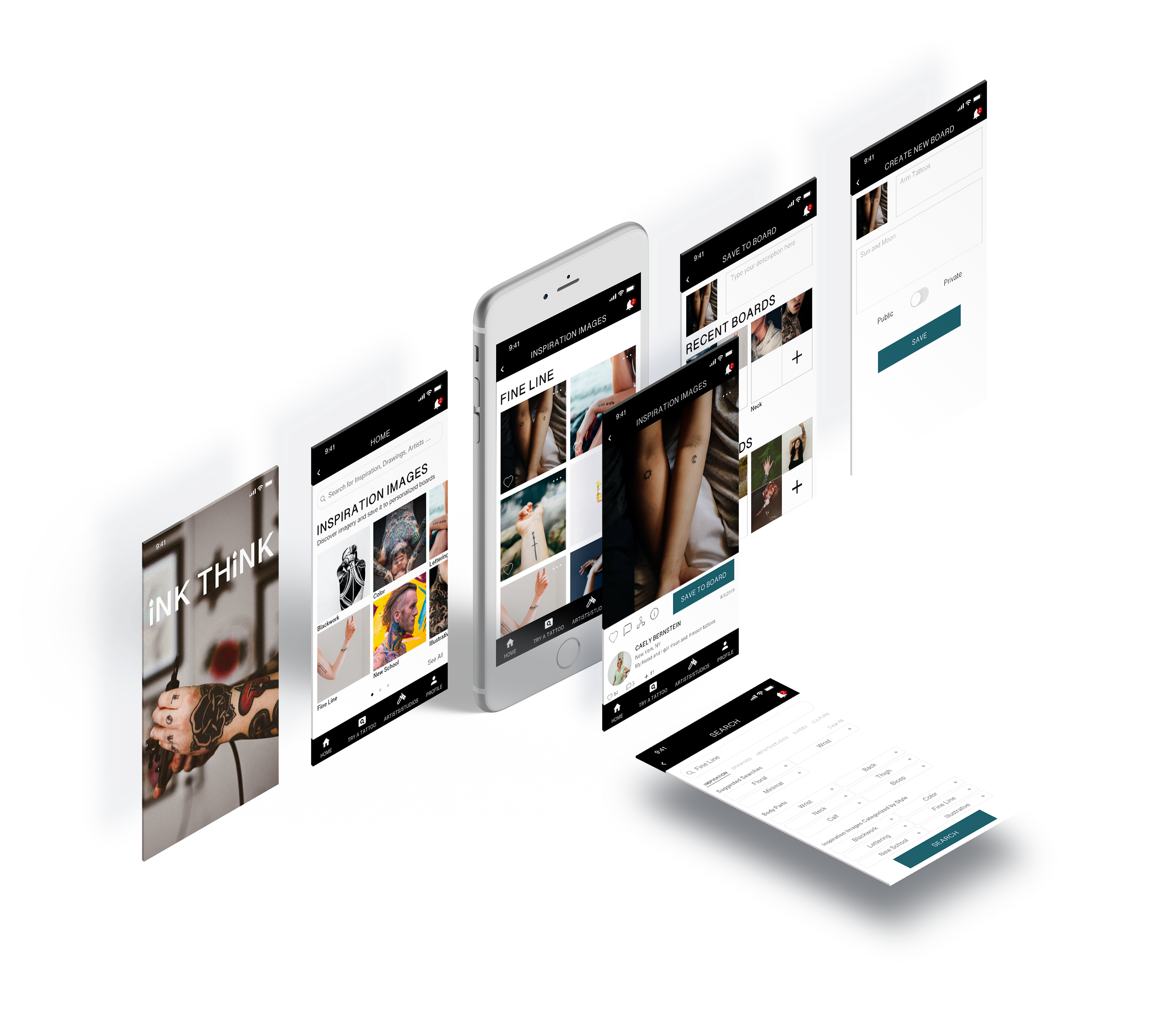 Designing an app for discovering tattoo inspiration.
​​​​​​​

Getting a tattoo is a big decision. Without sufficient confidence in both what you put onto your body, and who does it, it can cause deep regret. 
To solve this problem, I designed an app that empowers tattoo seekers to realize their tattoo dreams with three core experiences, each tackling a different obstacle of the tattoo process. Below, I'll explore the first experience: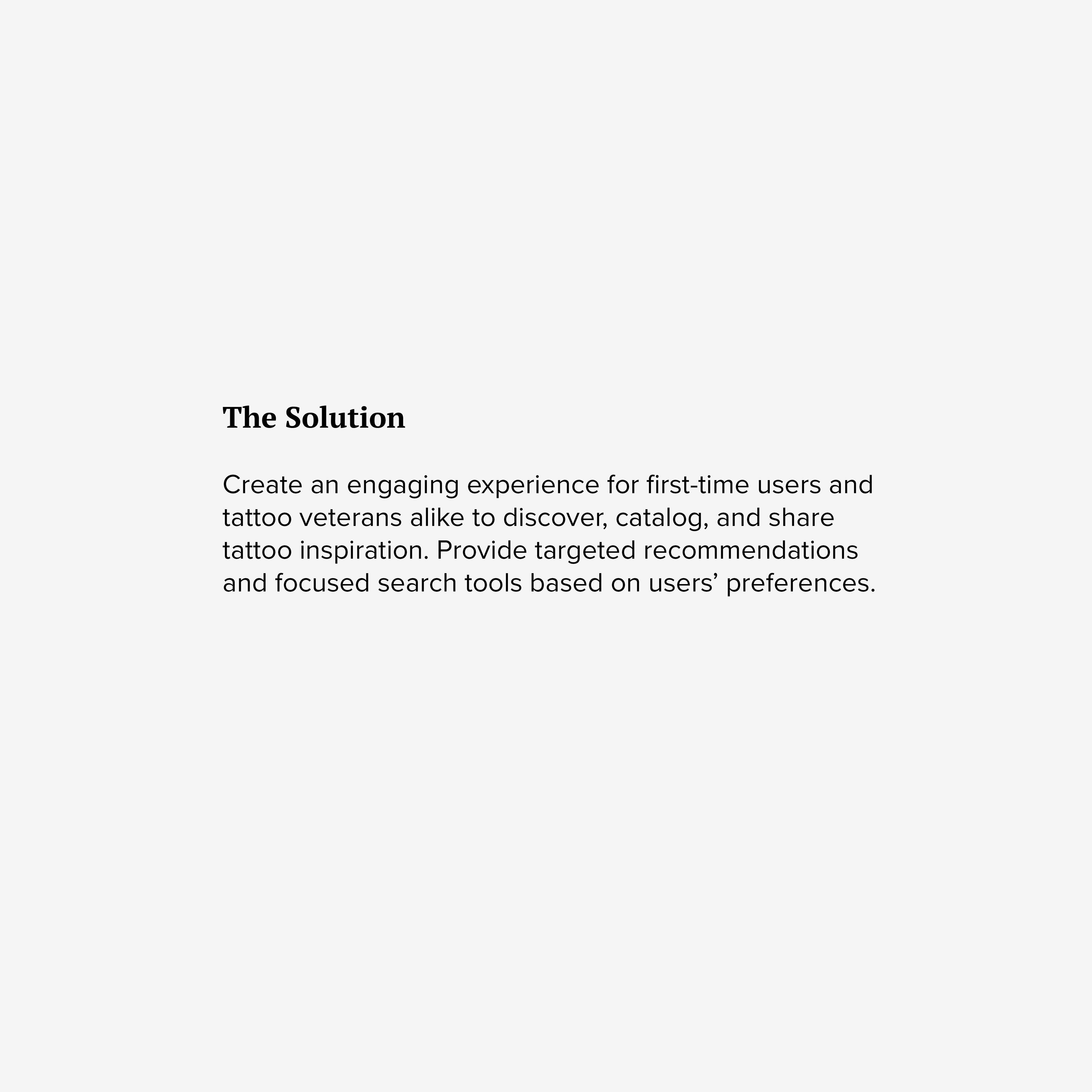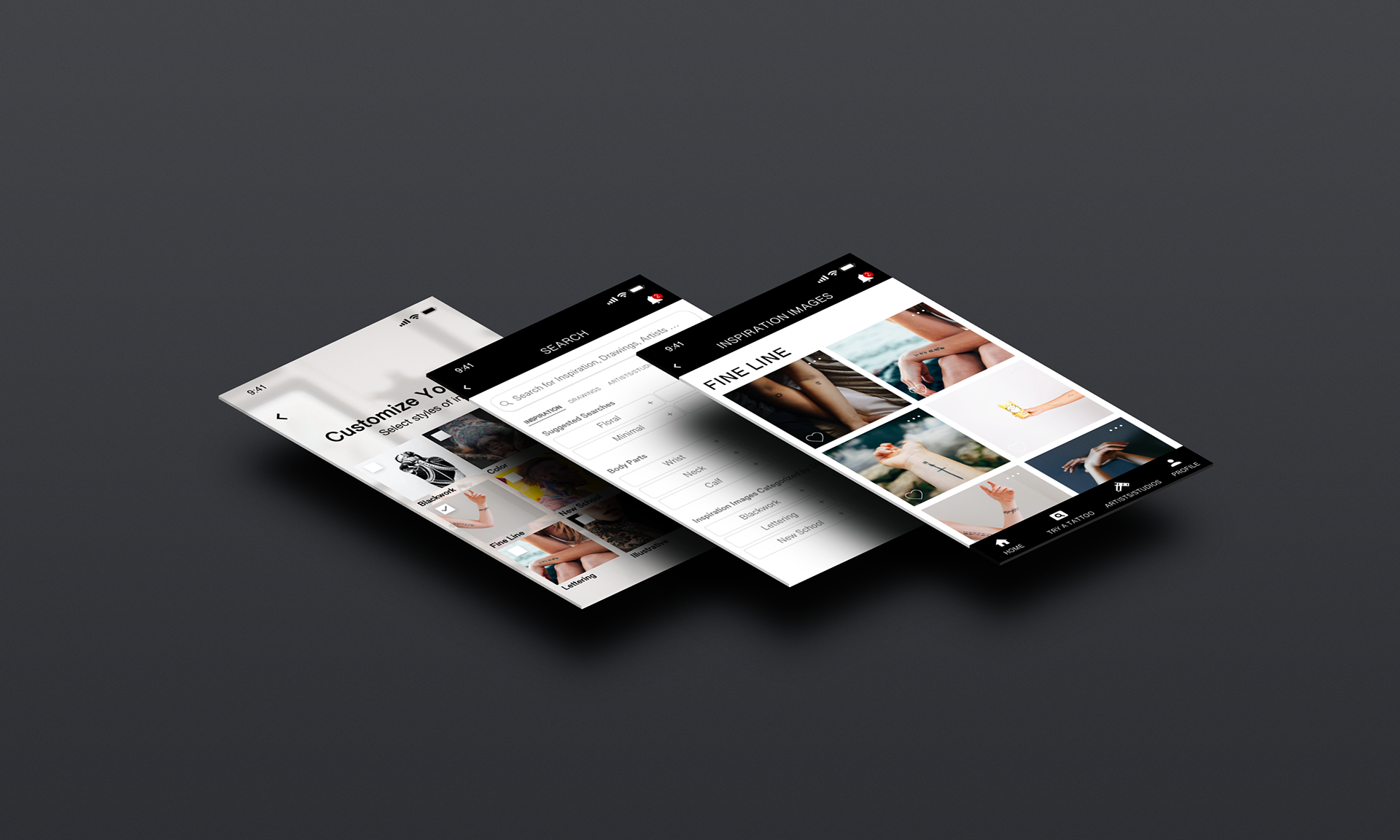 Role

- UX Designer / UX Researcher / UI Designer 
during CareerFoundry's UX Design Course 
(
Mentor - Amy Ehlers)
Timeline - 8 months / April 2020
Tools - Adobe XD / Illustrator / Photoshop / Optimal Workshop / UsabilityHub / Quicktime Player

​​​​​​​​​​​​​​
Understand the User / Ideate / Prototype / Test
• User surveys/ratings (satisfaction ratings and ease of use questionnaires) 
• Analytics (frequency of return visits, feature usage, number of new accounts created and new/returning visitors)
Getting a tattoo can be an incredibly emotional process. Users' actions hinge on their feelings - whether they're excited by the thought, overwhelmed by the research involved or fearful of the permanence.
• Defining and prioritizing a narrow set of core features that would satisfy user needs, while staying within the project scope
• Creating an intuitive and streamlined experience despite the multiple functionalities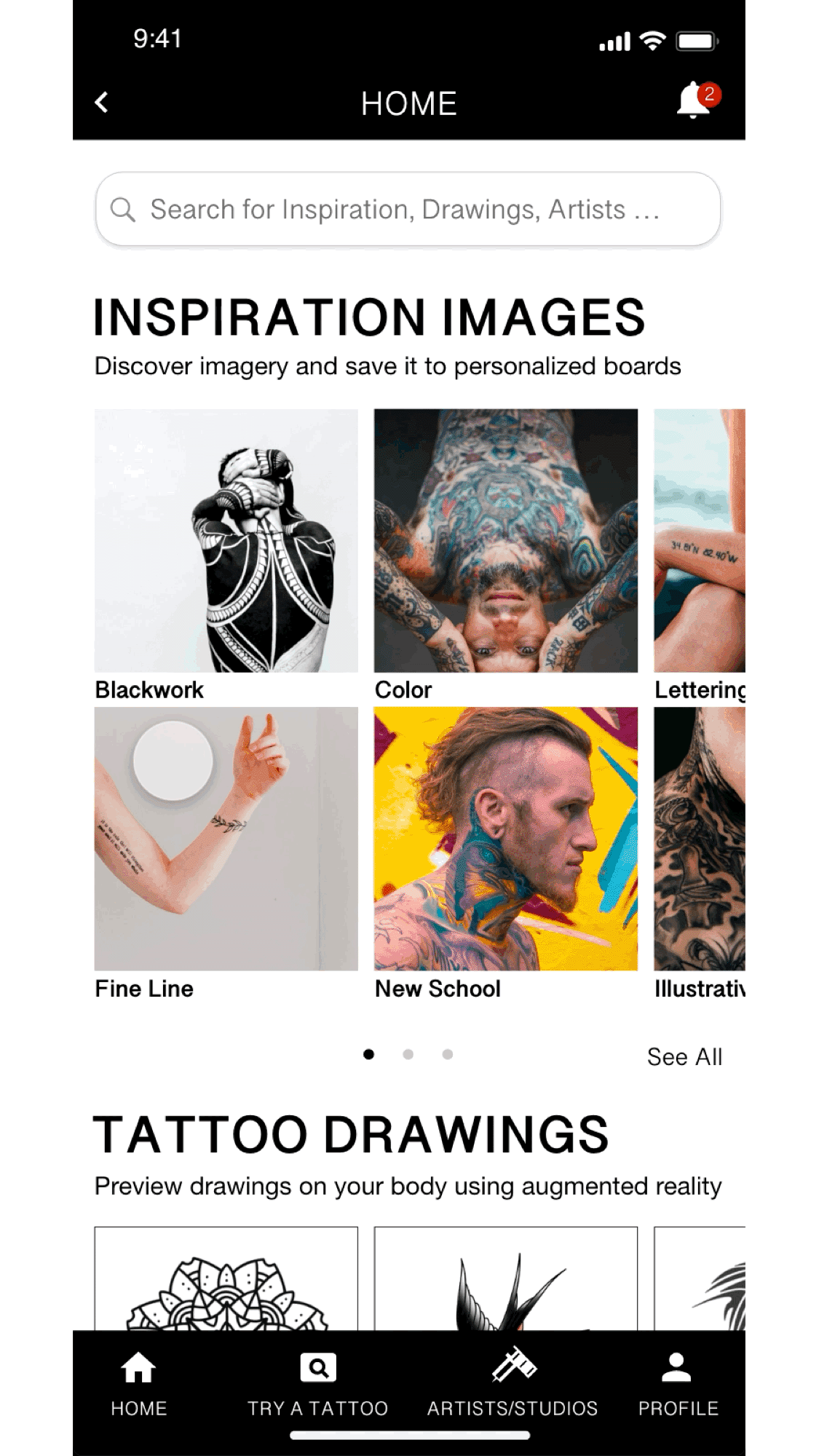 • 
To understand why tattoo seekers might be hesitant or reluctant about getting a tattoo
• To learn h
ow and where people search for inspiration
• To discover w
hat might help reduce potential regret after getting a tattoo
Research Methods 
​​​​​​​​​​​​​​

"I'd be more motivated to get a tattoo if I had one place to save all the tattoos I find for inspiration."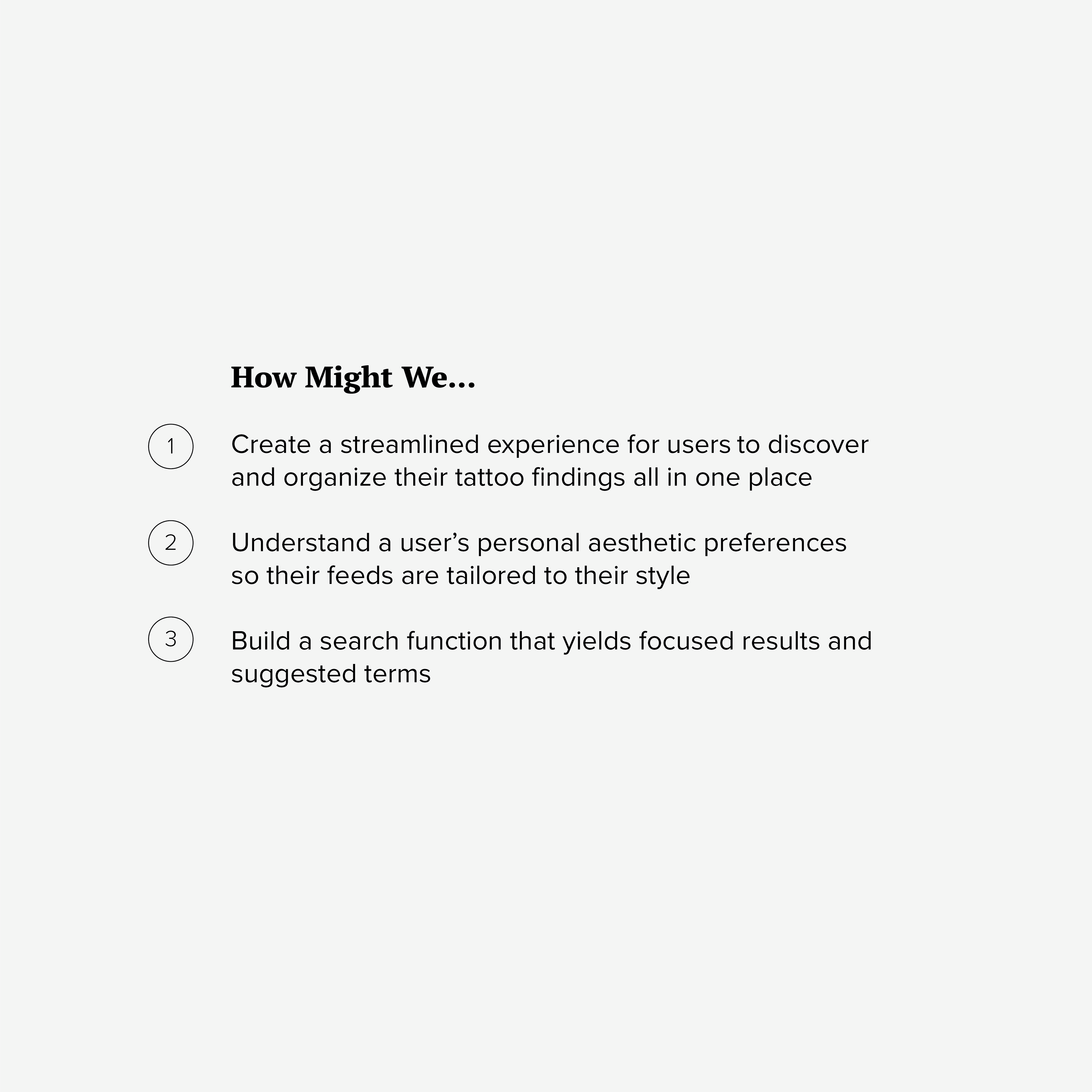 Before building out the app, I needed to understand who might be using the product and what their goals and motivations were. So using my user interviews and research, I created a persona named Sam who's a tattoo newbie. 
Empathizing with the less experienced tattoo seekers helped me ensure that my app was inclusive regardless of whether users already had any tattoos.
​​​​​​​​​​​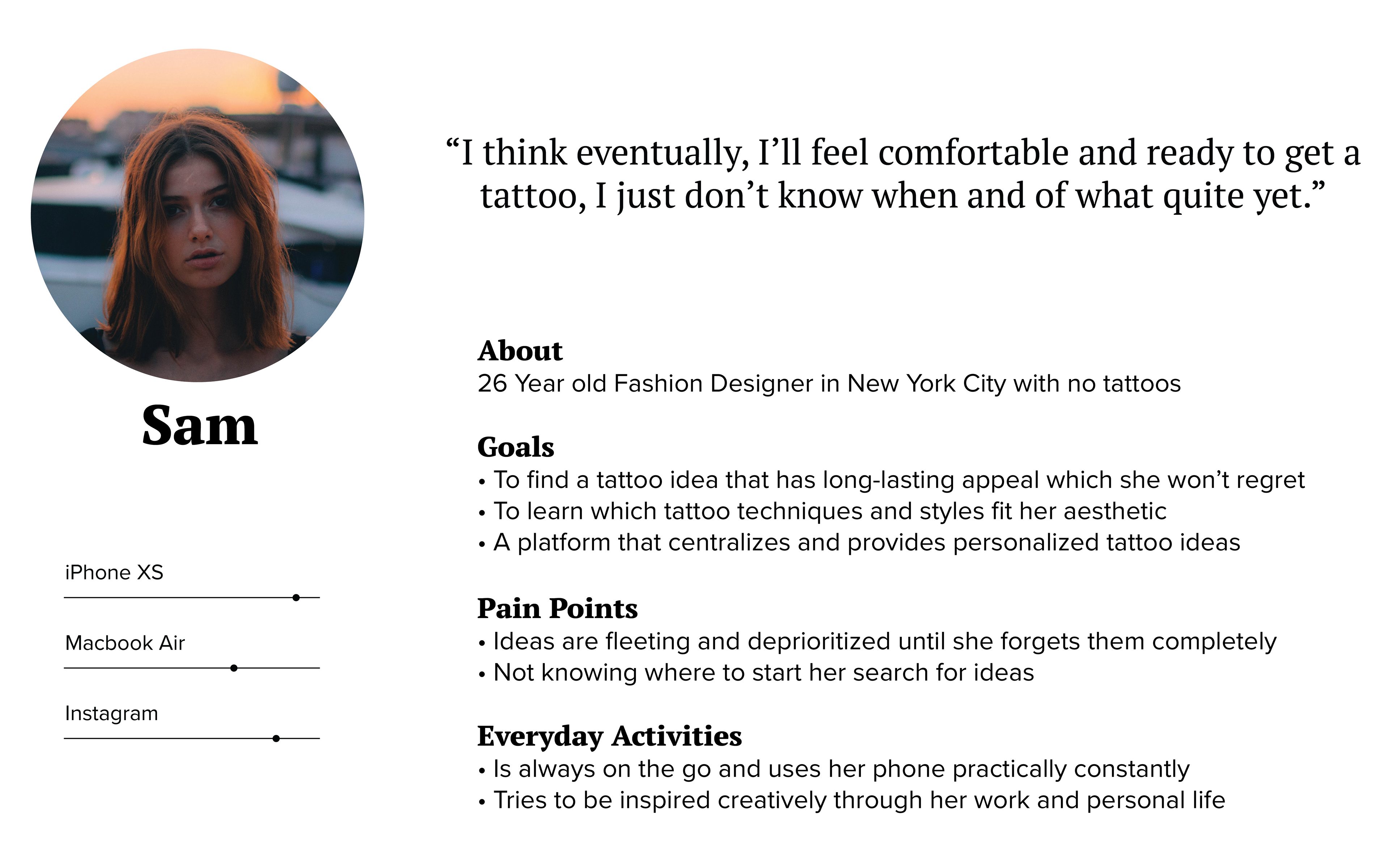 I created a user journey for Sam to more deeply empathize with her motivations and thought processes. Mapping out her emotional experience at each phase of their interaction with the app helped me design experiences and features around users' feelings, helping to quell anxiety and amplify their excitement.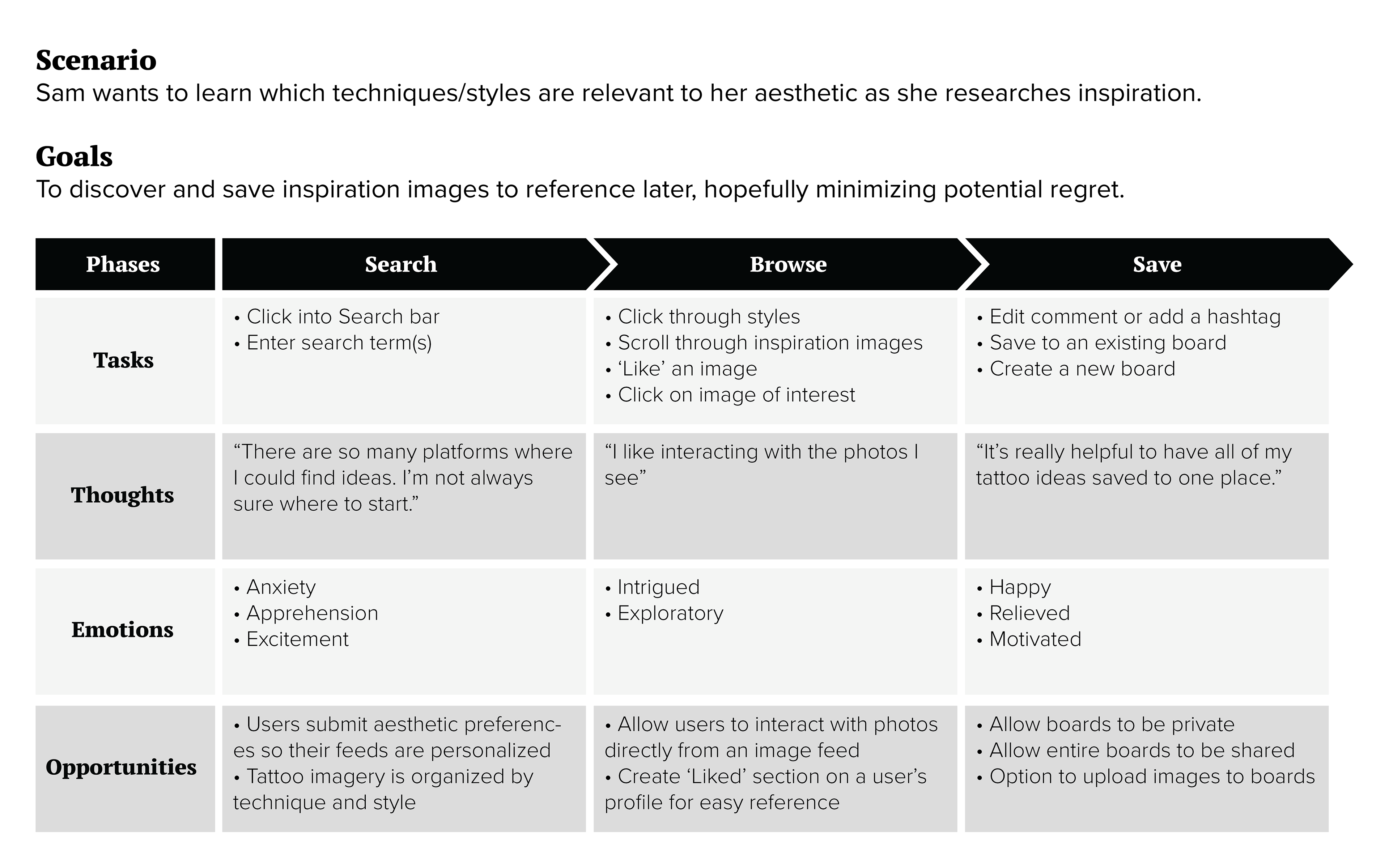 After better understanding users' motivations and needs, I created user flows based on their most pertinent goals. Mapping out the flows helped me identify the key screens to prioritize.


Using my user flows, I sketched wireframes and envisioned how users could progress through the app. Mapping out these paths helped me identify key functionalities and screens that might have otherwise been missed. I also noted various features and capabilities that I wanted to incorporate.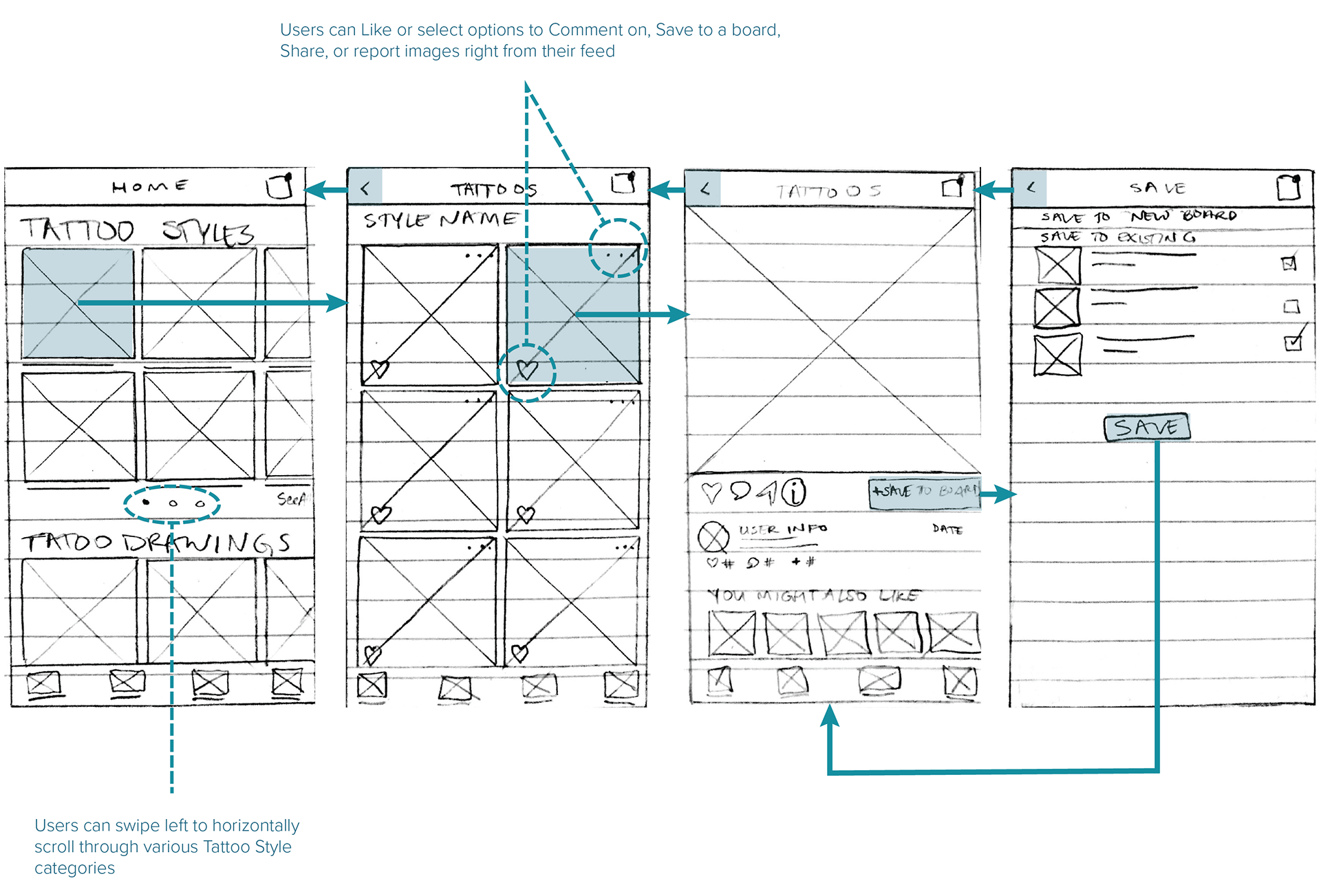 After structuring the flow of information and identifying key screens, I considered the design language and how I could excite and inspire users by using modern, clean design elements and high quality imagery. I created mock-ups to begin visualizing the app's functionalities and crafting the brand's image.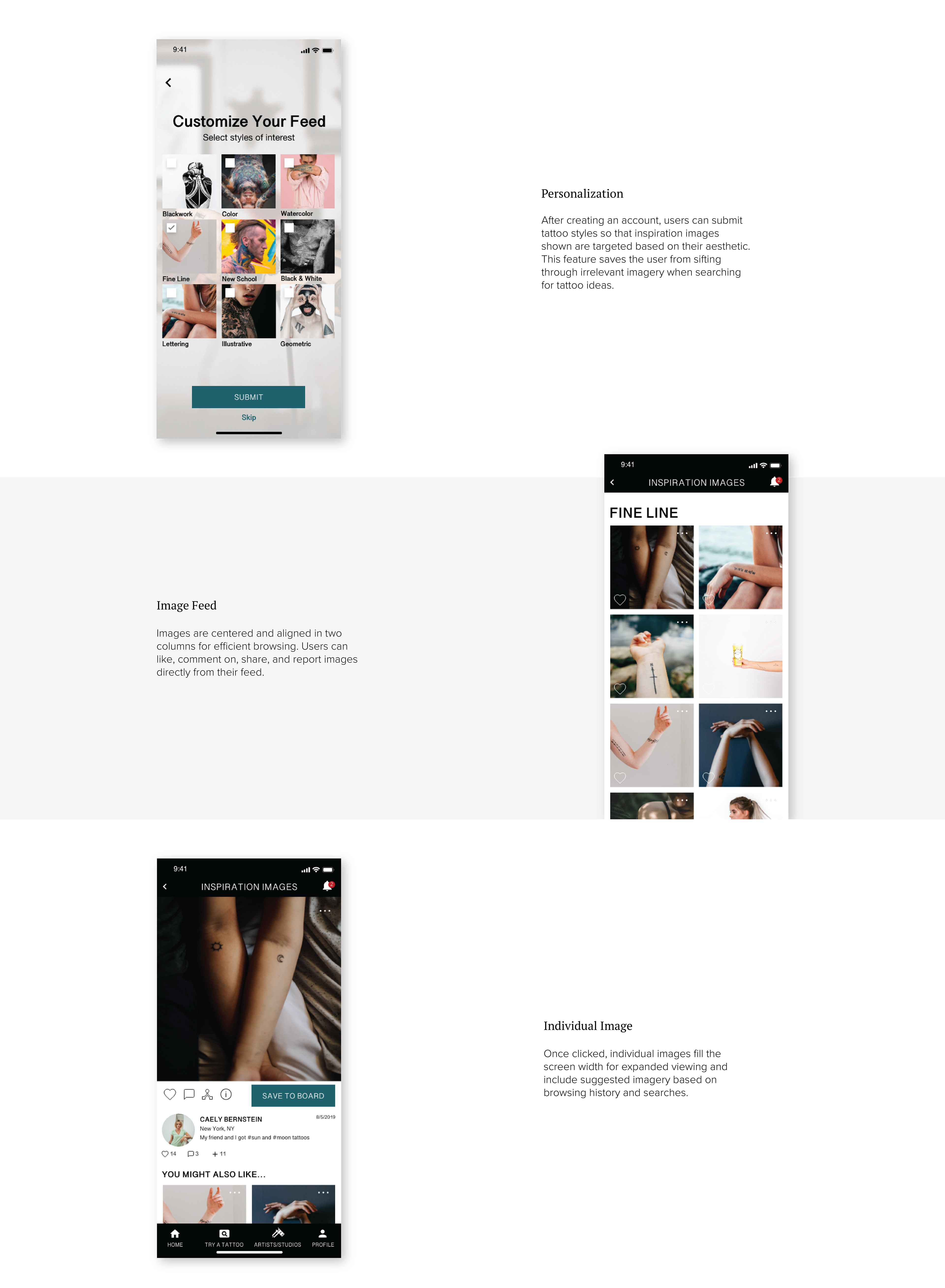 Using my wireframes and mock-ups, I created a prototype to get a sense of the feel and function of the app. Prototyping also helped me consider the interaction design and transitions between screens. Once the first iteration was completed, I was ready to test it with users.
Flow of a user browsing and saving an image to a board: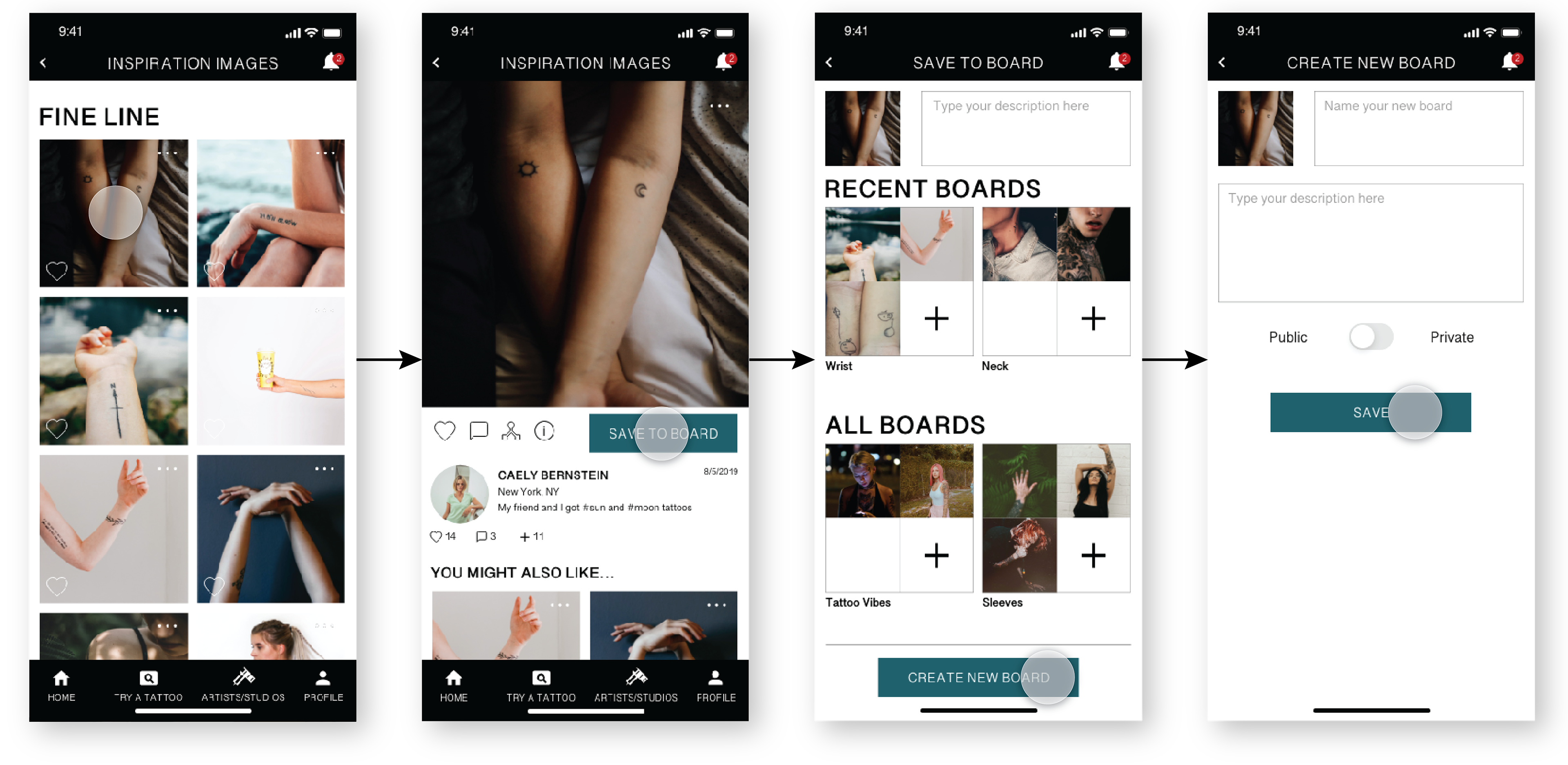 • 

To identify and solve for the major pain points that were experienced by the majority of users
• 

To uncover any usability issues
• 

To discover opportunities to improve, add, or remove features
​​​​​​​
Moderated Remote Tests with 6 Participants / Video + Audio Recordings
Affinity Map / Rainbow Spreadsheet / Usability Test Report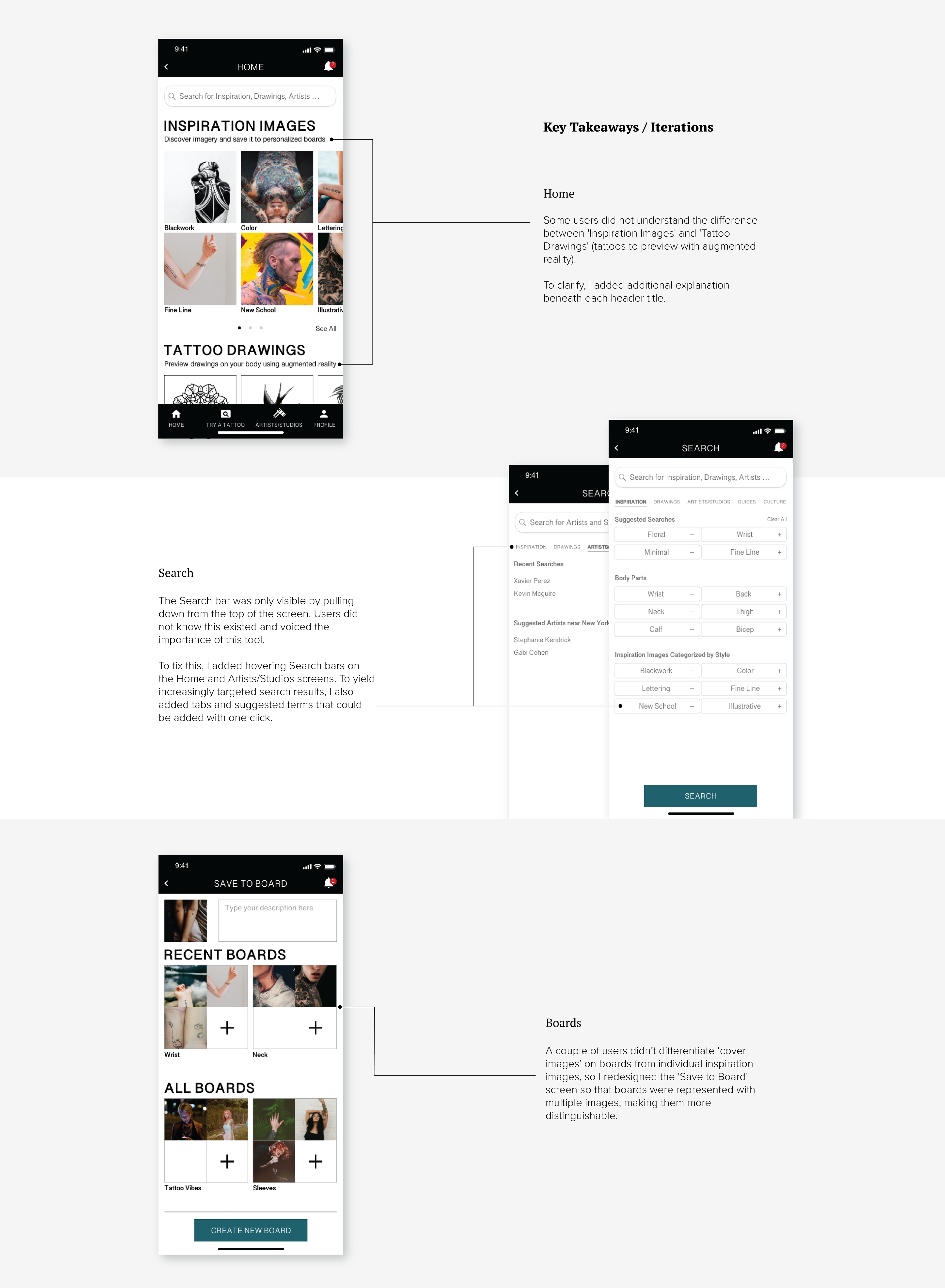 I was happy that most users vocalized satisfaction and utility from using the app and mentioned that any initial difficulty they had using the app would no longer be an issue after completing each task once. With the improvements made, future users will have an even easier time navigating through the app with fewer obstacles and an overall better experience.​​​​​​​

Reflection / Opportunities
I conducted a case study retrospective for Ink Think to analyze the strengths, weaknesses, and opportunities of my design process and skills. One major opportunity would have been to recruit a more diverse range of interviewees for both user research and usability tests. Having a broader set of participants would have likely provided more enriched findings and revealed additional pain points my app could solve. 
Another opportunity would have been to spend more time sketching wireframes before going digital with my screens. Front ending the brainstorming could have identified possible issues earlier which would have saved some time spent revising my high fidelity screens.
There are a couple of great educational opportunities for me as well. Having more time to learn about tattoo culture and the technicalities of executing tattoos would have given me some great perspective when designing.